Earlier this year, Lancaster County (Virginia) Republicans held their Reagan Day dinner at Indian Creek Country Club where the featured speaker was David Keene, who spent much of his speech pimping his fear-mongering book "Shall Not Be Infringed: The New Assaults on Your Second Amendment."
Keene was president of the NRA for two years, 2011 – 2013.
In 2003, Keene's son David Michael Keene was sentenced to ten years in prison for shooting at another motorist during a road rage incident.  Prior to this incident the young Keene had been under psychiatric treatment for several years.  Because of his mental condition, he was prohibited from possessing a firearm, still, he was carrying a pistol which he used to shoot at another motorist.
Where did the young Keene get his prohibited pistol?  According to court testimony, David Keene allowed his son to use his firearms in spite of the son's mental condition.
In addition to being a past president of the NRA, Keene was chairman of the American Conservative Union (1984 – 2011), where his ex-wife embezzled over $300,000, for which she served one year in prison.
Of course, these facts from Keene's past were not mentioned by the Lancaster Republicans.
Now,  we discover that Keene was — and likely still is — deeply involved with a Russian scheme to funnel $35 million through the NRA to support Trump's campaign in 2016.
My old granddaddy told me "You can tell a lot about people by looking at who their friends are."
BUT WAIT — THERE'S MORE!!!!
First, there is this young female Russian "operative" — who was VERY friendly (if you get my drift) with a lot of old guys in the NRA leadership, including Keene — Maria Butina.
Courtesy of The Daily Beast: 
The Senate intelligence committee has asked the National Rifle Association to provide documents on its connections to Russia—including documents related to a 2015 trip some of its top leaders made to Moscow. That's according to two sources briefed on the committee's activities.

The NRA did not immediately respond to a request for comment. Spokespersons for Sen. Richard Burr, the intelligence committee chair, and Sen. Mark Warner, the panel's ranking member, declined to comment on the record.

The NRA's Russia connections have drawn growing public scrutiny after a key figure in Russian outreach to the powerful gun lobby, Maria Butina, was indicted in July on charges of being an undeclared Russian operative connected to the country's intelligence apparatus. Butina sought to use guns as a lever to tilt the Republican Party in a pro-Kremlin direction, creating a political firestorm for the NRA in the wake of her arrest. The intelligence committee's document request is just one part of the aftermath.

Butina, whose Russian political patron Alexander Torshin is a senior figure in the country's powerful central bank, ran a Russian gun-rights organization called the Right to Bear Arms. In December 2015, the group sponsored an NRA delegation to come to Moscow for a week. NRA dignitaries also met with another influential Russian, the former deputy prime minister Dmitry Rogozin. Torshin subsequently came under U.S. sanctions; Rogozin had been under sanctions since 2014.
A number of NRA heavy hitters were on that trip including Right Wing darling Sherrif David A. Clarke.
Maria Butina's handler, Torshin, is also heavily involved with The Right to Bear Arms, Russia's version of the NRA—which has been wining and dining dumb Trump supporters like former Sheriff David Clarke with trips to Russia.
Here is the whole group.
This picture is stunning. Moscow, December 11, 2015: Aleksander Torshin, Maria Butina, Russian Right to Bear Arms leaders; Sheriff David Clarke, David Keene, NRA pres Pete Brownell, Jim and Kim Liberatore (Outdoor Channel).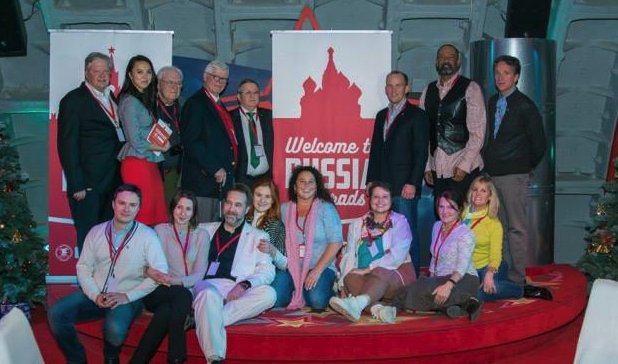 You may remember that the NRA already got busted for lying about donations from Russia, and has been accused of laundering Russian money that was then donated to Donald Trump's 2016 campaign.  (The NRA donated $30 million to help get Trump elected — Russia gave the NRA $35 million before the NRA sent $30  million to the Trump campaign.)
Just a few interesting things that I am certain Robert Mueller has already uncovered.