Bunch of "Team Mitch" thugs grope young freshman member of Congress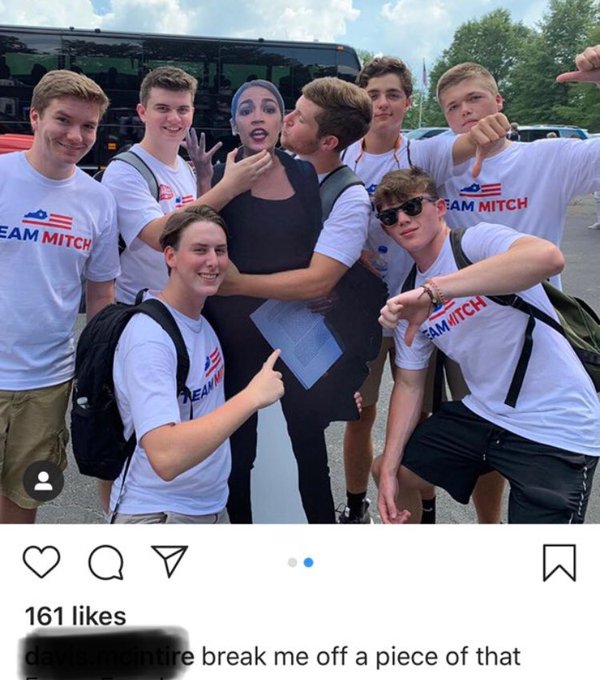 Young Republicons at their best.  Of course, not one of these young assholes has the balls to confront AOC in person.  Cowards all . . . goes without saying . . . they are Republkicans.
Meanwhile, son of wealthy SC Republican is thrown out of his private school because of his video in which he shoots "niggers."
On Monday, WOLO reported that a 16-year-old South Carolina student has been expelled from the Cardinal Newman School, banned from the property, and faces criminal charges following a violent, racial-slur-laden social media post in which he shoots a box of shoes representing black people.
"Howdy. I'm Parker Mustian, and I hate black prople," he can be heard saying in the video as he loads a rifle. "They're the worst. They're stinky and they just suck. They're just bad people. You'll notice over there, there's a box of Jordans — the favorite pair of shoes for a black man. I'm gonna show you what I think of the black man."
According to Heavy, Mustian comes from a powerful political family. He is the grandson of Richard Quinn, a legendary GOP strategist, and the son of Benjamin Mustian, a prominent Columbia attorney.
Snip
https://www.rawstory.com/2019/08/white-teen-from-powerful-political-family-gets-banned-from-school-over-insanely-racist-gun-video/