Is there a full set of teeth or a high school diploma among them?  Note the inclusion of the "Make America Great Again" slogan on the banner . . . wonder where that came from?
This was posted by Rep. Craig Meyer, NC House District 50:
This isn't a scene from a hundred years ago. This is right now, in front of the Hillsborough, NC Courthouse. Contemporary racism erupts in our backyard.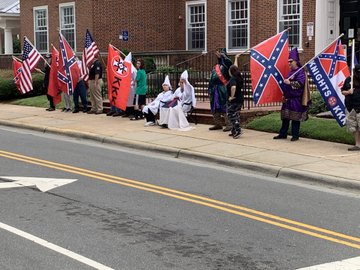 HILLSBOROUGH, N.C. (WTVD) — Members of the Ku Klux Klan are gathering outside the Hillsborough courthouse Saturday evening.
Counter-protesters have staged themselves in front of the KKK gathering.
The Orange County sheriff's office is monitoring the protest.
The KKK members at the gathering are part of the 'Loyal White Knights' out of Rockingham County.
These clowns may be the same group from Pelham (different county) that did the drive through Roxboro after Trump was elected.
Meanwhile, a local shop owner responded: